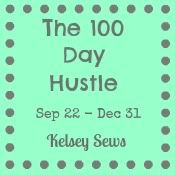 I hate how it seems like I miss a lot of things by a day or two because I'm at work! UGH! I found out about the 100 day Hustle hosted by Kelsey of
kelseysews
last night! And it of course, was ONE NIGHT too late!!! I love the idea she has....making a list of the things you hope to accomplish in the rest of 2012 (wow, doesn't seem like it's already close to the end of the year!!!) or looking back at what you had said you wanted to accomplish at the beginning of the year and marking that list off!
Well, as I wasn't really sewing that much at the beginning of the year I don't have a list, yet!
But guess what? Yep I made me one!!!!!! It's pretty darn long too!!! I don't know if I'll be able to accomplish all of this list, there are DEFINATELY a few things I HAVE TO finish this year, and those of course will be at the top of my list!
You wanna see it?????
SUUUUUURE ya do! (well if not, I'm showing you anyways!)
I could use all the cheering on and encouragement I can get too!
Kelie's 100 day list (as of 9/26/12)
Quilts
·
Amanda's Quilt- (HAS TO BE DONE BY Oct 25th!!!) (Nightshade)
·
My Niece's quilt (HAS TO BE DONE BEFORE BABY SHOWER ON Nov. 10)
·
At least 3 to 4 blocks for my Swoon Quilt (if not more)
·
Number one on this list is something I can't share yet!!! HAS TO BE DONE BY END OF OCT!
·
Comissioned bag for Debbie
·
Comissioned bag for Deanna
·
Comissioned bag for Lisa H.
·
241 Tote (because I'm dying to make it! I've had the pattern FOREVER!)
·
A few things for something else that I can't yet share!
Swaps
·
Modernista Swap (Mail date Oct 29th)
·
2nd round of my Kona swap (don't have all the details ready yet!)
There are a few things I didn't put on there because, well, they are just unrealistic goals!
And really the only thing I've started actually sewing from this list is Dakota's quilt. (For those of you who don't know he is my step-son) I've got the design figured out for Amanda's quilt (which is going to be made from Tula Pink's Nightshade collection) and that is also my first comissioned quilt!!! *big grin* I do have all the fabric I need for my quilt, and I know what "pattern" I'm going to use, just haven't started it yet! My Christmas quilt is going to be made from the Joy jelly roll I have, and a few pieces of yardage. As for my niece's quilt, ummmm......I HAVE NO CLUE YET!!! My brother and sister-in-law (mainly the later) are SOOOOO PICKY I have no clue what they will even like! UGH! The baby shower is on November 10th, which is coming sooner rather than later, so I need to figure something out! And I need to do it quick like, as well as cute like! Any one got any ideas???? I think I'm going to put up Dakota's WIP and work mainly on the blocks for Amanda's quilt first, the design is simple, so I'm hoping it won't take me TOO long to spit out a Full to Queen size quilt!
As for the bags, well, the ones with names to them will be done quickly. As for the other stuff I can't really share any of those details yet, it's a SURPRISE! (One that I hope you guys will enjoy!)
What's next....oh yeah...SWAPS! (I LOVE THOSE THINGS!) :)
My first swap that I hosted went sew well I've got another one in the works! It's going to be opposite of the Kona Rainbow, KONA NEUTRALS! And not charms either, one of the members suggested 5 inch by 10 inch bricks, which I LOVE the idea and have gotten some GREAT responses to the idea, so I'm going with it! And I'm still trying to work out the details, hopefully I won't have any last minute problems like I did with this one, but we will see! You live, you learn, right????
I'm also participating in my FIRST GROUP SWAP!!! I'm SEW EXCITED about this one I can't hardly take it!
It's the 2nd round for them! I'm loving all the great mosaics!!!
This is my mosaic! I know it's kind of ALL OVER the place, but hey, what can I say? I LIKE IT ALL!!!! LOL! This round is for the kitchen, we will include one large item (like table runner, placemats and napkins set etc) that is requested and one small "wild card" item that is the makers choice! This can be really ANYTHING we want it to be! I've got a few ideas brewing for my partner! She was pretty specific in what she really wanted so, of course, I have to make what she asked for! Me on the other hand, I'm good for ANYTHING! Sew, Partner if your "stalking" over this way and see this post, I would LOVE anything you make! I promise! My house is really in need of HANDMADE items! I haven't made really anything for my home, yet!
As for me, I'm so nervous about this swap, my partner is a FANTASTIC quilter, and I really REALLY don't want to let her down. I want to make something she WILL LOVE and use! Sew, I'm hoping I can do this without making too many mistakes!
Here is the mosaic I made for the swap of my kitchen. Yes, I have a VERY small kitchen, but it works. We are eventually going to build on and extend the kitchen to make it bigger, you never know, maybe what is now my kitchen will then be my dining room? (wishful thinking)
Okay, so I'll let you guys go, I know this was a VERY wordy post!!! So with that in mind, I'll leave you with some pics! :)
(that's one of my fav pics I've EVER taken of a landscape! It's the mountains of TN/NC! Which is breath taking in person!)
My first journal cover!!!
Yes, my baby girl has to wear glasses now! :( I'm praying she will grow out of it though!
(he's just so darn cute!)
~Hope y'all are having a great day!!~